THE WASTE
HIERARCHY
The Waste Hierarchy is a framework showing the preferred order of managing waste By focusing our efforts at the top of the hierarchy we can avoid the extraction of valuable resources, keep valuable resources in use and prevent valuable resources from going to landfill.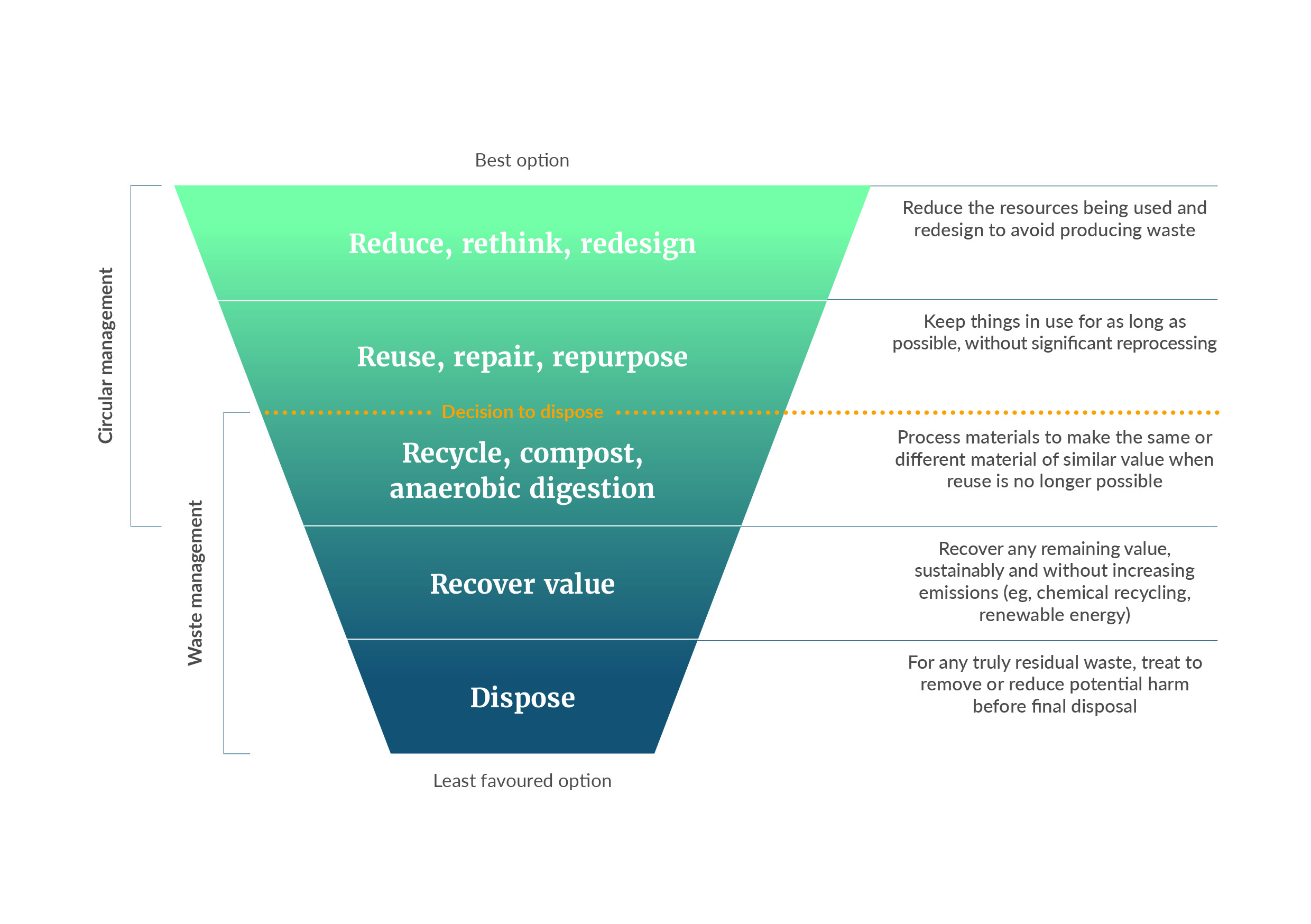 Reduce
The best way to reduce the amount of waste going to landfill is to avoid having something to throw away in the first place.

Reducing waste can be done by being thinking about the lifespan of items the items we purchase, how they can be put to best use and the resources used to make them, for example:
Avoid single-use packaging container or bottle.
Buy second hand or borrow items to reduce the number of resources being used.
Support businesses that are redesigning products to be reusable or repairable.
Meal planning, correctly storing food to avoid waste and cooking with left-overs Check out Love Food Hate Waste for tips on how to reduce food waste.
Reuse
By reusing, repairing, and repurposing the stuff we already have we can extend the time they are useful.

Reusable products made of quality materials such as fabric produce bags, metal straws, and washable cloths can be used for a longer time than single-use products. Check out Waste Free Parenting for tips about reusable products for babies, children and families..
Instead of discarding items like phones, appliances or furniture that are broken or damaged try repairing them. When purchasing items consider if they will be easily repairable. Repairing items is often more affordable than replacing. If you are unsure how to fix an item, try attending a local Repair Café.  

Ask yourself how often you will use an item, if you only need it a few times per year you could hire or purchase together with friends and family.
If items are no longer suitable for their intended purpose, try repurposing them instead of discarding them. This is often called "upcycling" and there are many creative ways it can be done. Examples include using egg cartons to grow seedlings, making cloths from old clothing, or using newspaper as an alternative to single-use bin liners.

If you have items you no longer use ask your local charity shop if they can be donated. The Auckland Council inorganic collection service is another way items you are unable to repair or no longer want can be repaired and donated or recycled. Check out what items can be collected by the inorganic collection service.

Recycling
When we are unable to reuse items recycling them allows materials to be made into a new item. We often think only materials like glass, plastic or metal can be recycled, but there are other materials like food scraps can be recycled too.

Roadside recycling bins are used to collect paper, cardboard and single-use grocery packaging. You can recycle containers made of glass, metal, 1, 2 and 5 (♳ ♴ ♷) plastic, as well as paper and cardboard.  These materials are taken to processing facilities to be sorted and sold as resources to companies that can make different and new products. For more information about roadside recycling check out the recycling page.

Food scraps are valuable materials that can be recycled to make nutrient dense products used to grow more food and fertilise soils. There are many ways food scraps can be recycled check out Compost Collective for information about the many ways you can compost at home or check out how to use the roadside food scrap service.
Items that aren't suitable to go in your roadside recycling bin like gas bottles, timber, can be taken to a local Community Recycling Centre for recycling. Clean and dry soft plastics can be recycled through the Soft Plastic Recycling Scheme, check out what retailers have collection bins.
Recover
Unfortunately, not all items can be avoided, reused or recycled. It can be dangerous to recycle hazardous material, and difficult to recycle items made of multiple materials.
Before these items are disposed of, any remaining valuable can be recovered through processing which either extracts material to be recycled or is transformed for a different use. 

Recovery of valuable material relies on our waste ending up at a facility that has the capability to process it. This is why it is important to check where hard to recycle items should be taken instead of going straight to landfill. 
E-waste, whiteware and small appliances can be collected through the inorganic collection service or taken to specialised recycling facilities like Computer Recycling
Bunnings have a battery recycling programme with collection points at selected stores.
Hazardous chemicals used in the garden or home should be taken to Transfer Stations
Paint can be taken to participating Dulux and Resene reuse and recovery
Engine Oil can be taken to participating Supercheap Auto stores for safe disposal.

Dispose
When items are unable to be avoided,  reused, recycled or recovered then the last resort is disposal to landfill
Disposing of waste in landfill is the least favoured option on the waste hierarchy as it represents an inefficient use of resources.